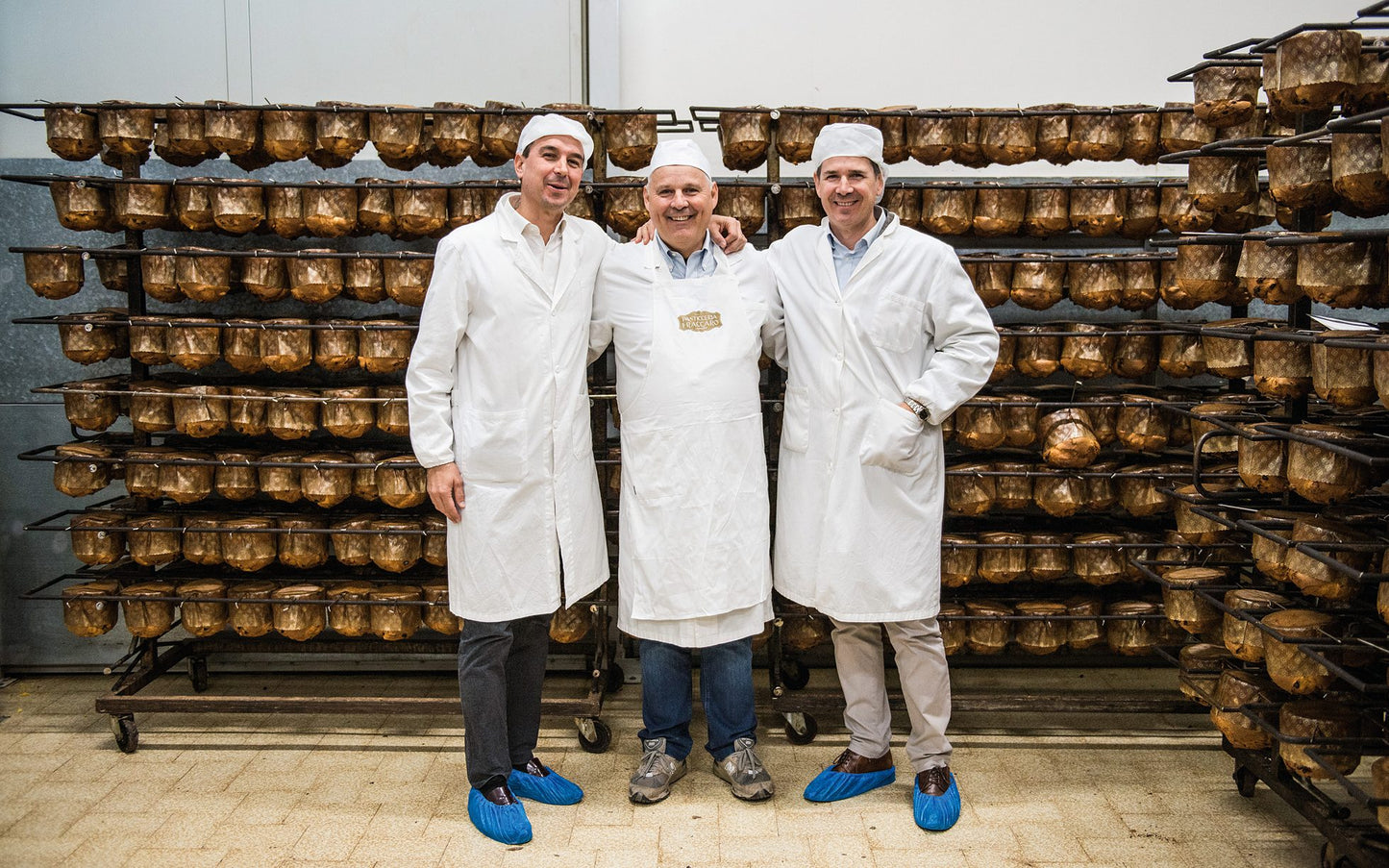 Pronounced "pah-net-taw-ne". Panettone is the Christmas quintessential yeast-leavened sweet cake. This celebratory Italian Christmas cake originated when the Duke of Milan's chef forgot his dessert in the oven, causing it to burn. His assistant Tony had prepared a dessert earlier that morning, and insisted he used it for his guests. The dish was coined "L'è 'l pan del Toni" or 'It's Toni's bread'; hence the name Panettone. A now renowned symbol of Italian gastronomy eagerly anticipated every Christmas, especially for us Italians.


Image by History Today, 2018
Sense the perfect Panettone
See
A tall, dome shape bronzed in colour traditionally spread with large candied fruit. Meticulously baked for at least 30 hours and hung upside down to prevent collapse.
Smell
Intense and harmonious scents of raw ingredients used. Fragrances of citrus, butter and vanilla are an indication of a quality Panettone.
Touch
Described to pull a part like fairy floss, you should feel the rough textures on its exterior and ultra-soft, fluffy and bouncy consistencies on its interior. If a sliced piece returns to its original shape, you know it's the one.

Taste 
Absorb the perfect balance of flavours. It should be sweet and buttery, rich and bitter melting in your mouth upon first bite due to the moistness.
 Original Recipe by Italian Pastry Master, Gino Fabbri
Image by Kelsey Zafiridis, 2022
Panettone Dress Up
When it comes to consuming Panettone, the world is your oyster. Sweet or savory, panettone is a versatile piece of cake that can be enjoyed in all forms.


1. Tear and Dip
Tear through the body of the panettone and dip in your espresso made from D'Angelo Coffee Italiano Beans. This is such a nostalgic pairing for some; I still remember my brother and I strolling into our Nonna's back room (you know the back room that almost all Nonna's have?) after Christmas lunch to a freshly brewed Macchinetta and multiple slices of Panettone. 


Moscato or Liqueur (or both?)
What better way to celebrate Christmas than with a glass of Moscato (and/or a shot of Liqueur) in one hand and a piece of panettone in the other. I suggest serving a slice with a glass of 2020 Bera Moscato D'Asti DOCG or Bottega Pistachio Liqueur. You will not regret it.
Image by Kelsey Zafiridis, 2022
Mascarpone Cheese isn't just for Tiramisu
Similar to the cream we use to bake Tiramisu, combine mascarpone cheese, sugar and eggs to whip up Mascarpone cream. Apply a dollop beside your slice of Panettone (or do a Liana and spread it all over) with fresh peaches or berries. 


Slap on a Flavoured Spread
Use any spread to enrich your panettone. We recommend the creamy Alberti Strega Spread or Fiasconaro's smooth and velvety spreads. Select from Chocolate or Crema alla Manna (hazelnut and honey). Be generous with your spread, it is the holiday season!


Image by Morgan Sette, 2021


On its own 
The most traditional way to enjoy panettone is simply on its own. This will allow you to really taste a high-quality panettone and activate all senses through its raw ingredients.

Image by Morgan Sette, 2021


Liana De Vita
Lover of Food, Wine & Travel