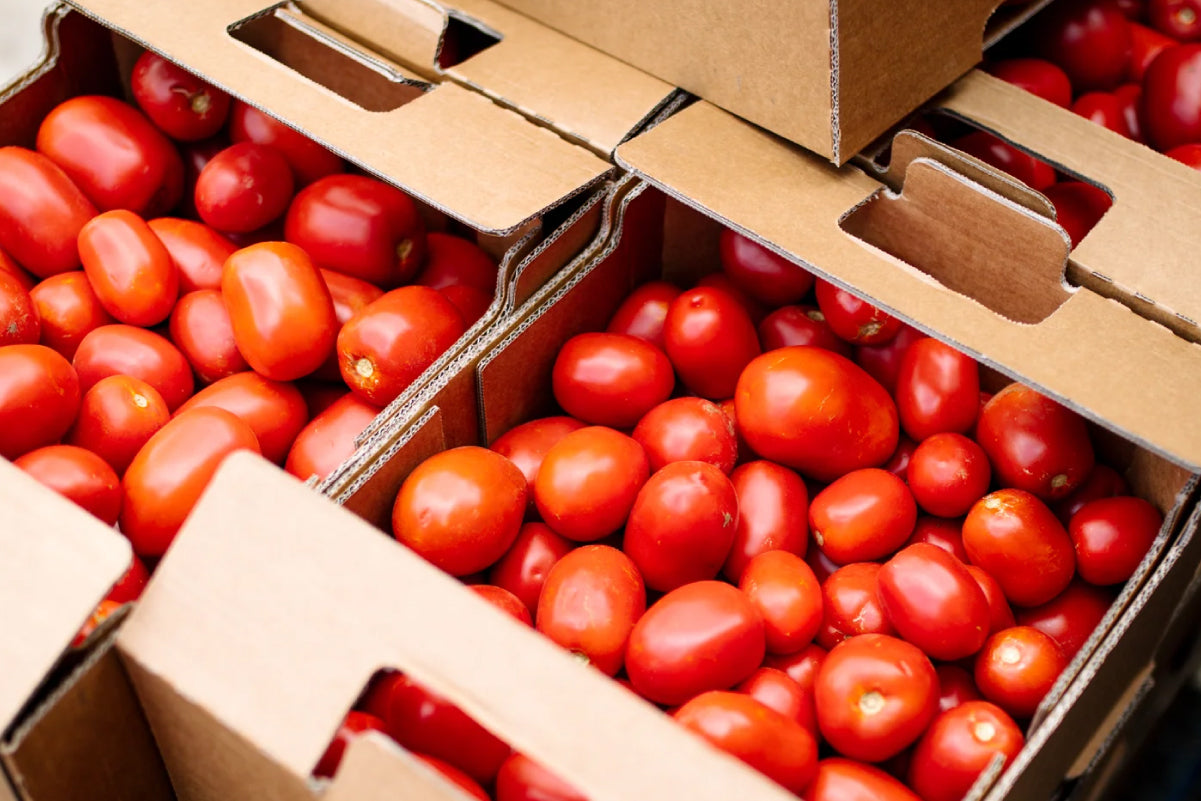 Passata Day isn't an undertaking you complete solo. It's not an activity where one Nonna is hunched over her kitchen bench witnessing all the action. And it's definitely not an afterthought nor last minute "project". No, Passata Day is a sacred annual ritual where Italian families and friends come together for a day (or several) to make something special, that can be shared by all throughout the year. 

In Australia, tomatoes are at their prime in February when Summer is at its hottest. At this time of year, Passata can be produced in small or large quantities to use throughout the year by everyone who contributes on the day or is lucky enough to be gifted a bottle or jar. Some larger scale productions have invested in a tomato canner to speed up the process and ensure the safety and freshness of a large batch.
Passata Day at Mercato, 2021. Image by Morgan Sette 

What is Passata exactly?

Importantly, what it is not, is cheap and processed tomato sauce where you will most likely find at the supermarket. Passata, which has been meticulously prepared, made and bottled by hand, is a tomato purée made from the freshest and ripest tomatoes. When made traditionally (with the tomato skins and seeds removed), you can taste the rich and fresh flavours with smooth and velvety textures. From pastas and minestrones to pizza bases and meats, Passata is versatile and can be used in a multitude of ways. The life of this purée can last for months (sometimes years like the bottles in Nonna's cellar!)


Passata Day at Mercato, 2020. Image by Morgan Sette 


What do you need to host your own Passata Day?

1. Your people. Whether that be your family, friends, relatives or all of the above. Your crew are the people who will create the special something with you and have a laugh in the process. 

2. Tomatoes. Obviously. But not just any tomatoes. Try locate San Marzano Tomatoes if you can. If not, Roma are frequently used in Australian Passata making. San Marzano are classified as DOP, the pinnacle of Italian tomato varieties. Grown beneath the behemoth of Mount Vesuvius, the volcanic soil creates the perfect climate for growing the most unique tomatoes on the planet.

3. On a smaller scale: a large pot on the stove. On a bigger scale: Fire pit in the backyard. Be safe and heed fire danger days!

4. Don't forget your pairing knives, sterilised bottles or jars with lids, a funnel and a tomato press. Remember: 1kg of tomatoes will grant you 750g of Passata.


Passata Day at Mercato, 2020. Image by Morgan Sette 

So, what's the process?

1. Wash your tomatoes and make sure to remove any dirt or residue which will affect the taste of your Passata. Blanch them in boiling water to loosen the skins for easy separation.

2. Using a press, separate the skins and pulp from the flesh and juice: this is what is puréed to make your Passata.

3. Can or bottle your Passata. You can add a little something something for that extra flavour: a basil leaf in each jar to heighten the taste, some garlic for a kick or in true Caporaso fashion, you can go straight-edge Pommodoro (tomato) style.

4. To preserve your Passata, cover the bottles in water and boil for 40 minutes (this pasteurises the mixture). You should use tea towels in the pot to help stop the jars from banging into each other while being boiled as there's a lot of pressure going on in there. We want this to be the best Passata that it can be.

5. Store in a cool, dark place and allow your Passata jars or bottles to sleep for one or two days. Do not bother the heavenly things. This is very important. 

6. And there you have it. Your Passata is ready to be the hero of many meals.
Passata Day at Mercato, 2020. Image by Morgan Sette 


Passata Day. Discover the fine art of how to make your own Passata and Pelati with the Caporaso's.

Want to skip the Passata Day and go straight to the sauce? Purchase a bottle or carton of our Mercato Passata here.
Passata Day at Mercato, 2020. Image by Morgan Sette