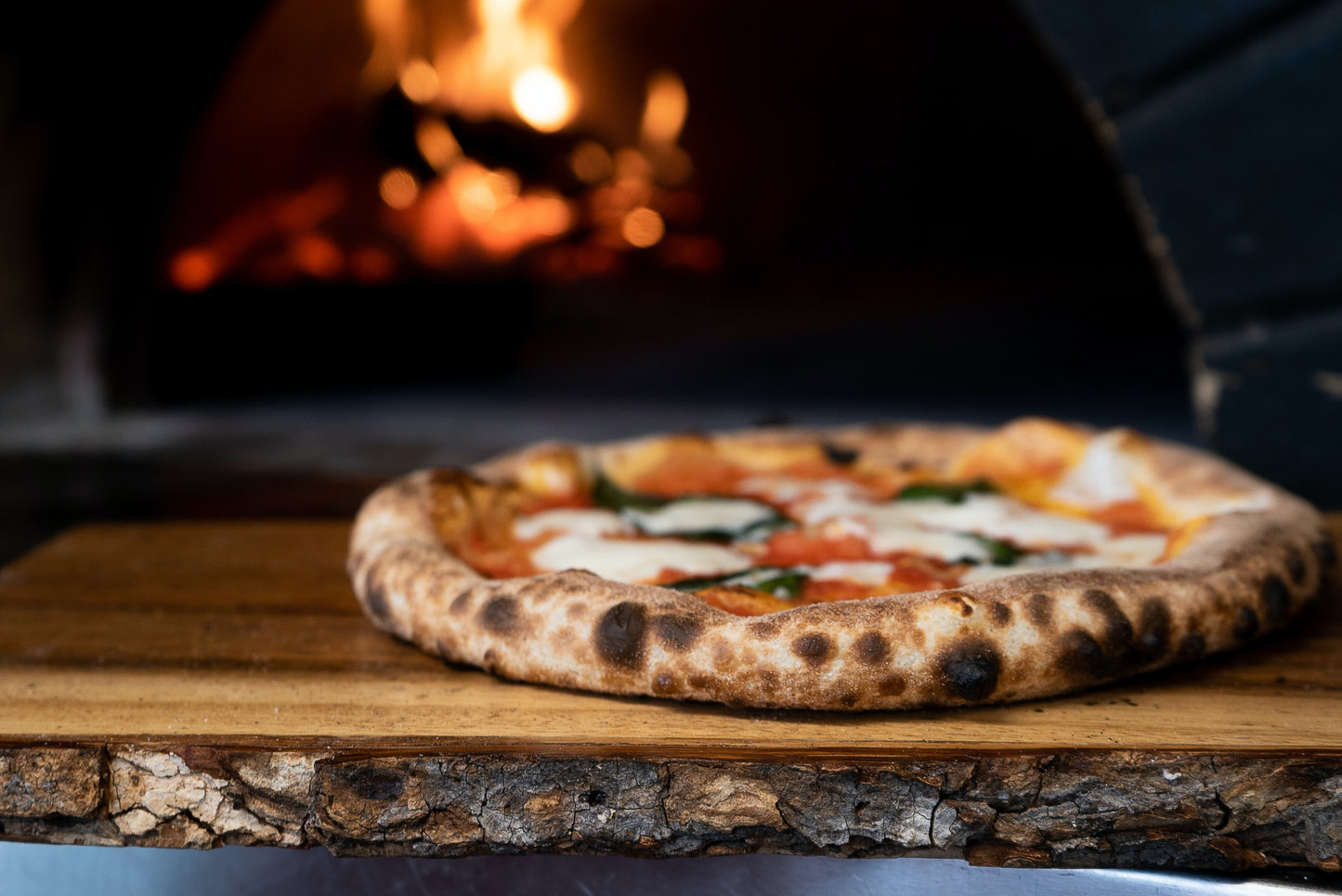 Pizza culture is a culinary phenomenon in Italy. We have Pizza Napoletana in Naples, Pizza Siciliana in Sicily, Pizza Al Padellino in Turin and what we are all waiting for, Pizza Alla Tonda from Rome. Produced in the 1950s, this divine pizza has a crunchy and thin texture which allows toppings to be added to their full potential (even on the crust!). Low hydration flour and olive oil are used to achieve a fluffy and crispy pizza resulting in a more wholesome taste.

Pizza Alla Tonda Romana by Head Chef, Nick Bergin
Makes 8 pizzas at 240gm

Ingredients
Biga
75gm Caputo 00 Pizza Flour
75gm Caputo 0 Pizza Flour
75gm Water
2gm Yeast
Dough
500gm Caputo 00 Pizza Flour
500gm Caputo 0 Pizza Flour
5gm Yeast
20gm Sea Salt
650gm Water
225gm Biga (4 Hours after mixing)
80gm Elisi Grove Olive Oil
Semola for Dusting 
Toppings
4 Cans San Marzano Tomatoes
Method
For the Biga, combine all ingredients in a bowl and mix till a rough dough is formed. 
Turn out onto a bench and knead for 5 to 10 minutes.
Place in a container and allow to ferment for 4 hours.
Once Biga has rested for 4 hours, combine the flours, yeast and Biga in a bowl with 70% of water.
Mix until a rough dough has been formed and add the salt and remaining water.
Once it comes together, add the olive oil and continue mixing till the dough comes together once again.
Turn out onto a bench and knead for 10 minutes until gluten is formed and dough is smooth.
Place the dough in an oiled container and let it rest for 1 hour.
After 1 hour, fold the dough on itself knocking the dough back. 
Repeat this process another 3 times.
Once the process has been completed, portion the dough into balls of 240gm and place on a greased tray or container and cover.
Refrigerate for a minimum of 24 hours or up to 72 hours.
Once the dough is ready to use, preheat your oven to the highest temperature with a pizza stone or use a pizza/wood oven.
Using Semola for dusting, start in the middle of the dough and use your fingers to stretch out to a round pizza base. If you don't have a peel, place the base on baking paper so you can slide it straight onto the hot stone. We want this base to be super thin and crispy!
Top the pizza with the best San Marzano tomatoes along with your favourite toppings. 
Using a peel, slide the base directly on to the stone and if on paper, slide the paper straight onto the stone and bake till bubbling and a little charred. This should take about 5 to 8 minutes depending on the oven.
Once ready remove straight from the oven, slice and drizzle with Elisi EVOO and eat...fresh is best!
Buon Appetito!