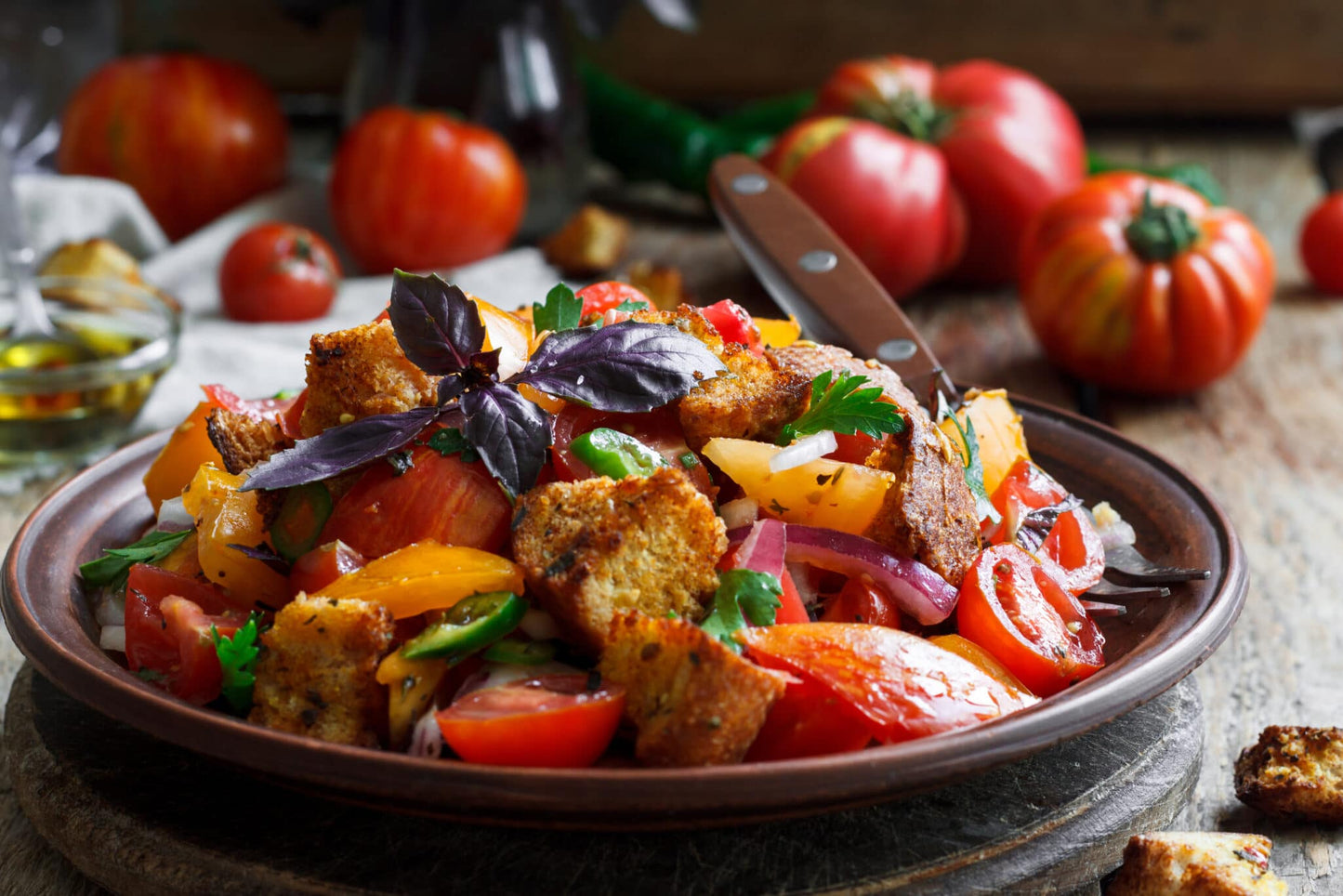 Tuscany, Florence 

Panzanella is a signature Italian bread salad typically bursting with crispy, soaked leftover bread and summer seasonal vegetables including fresh heirloom tomatoes, onions and basil. It is then seasoned with extra virgin olive oil and red wine vinegar served cold. Panzanella is a Tuscan specialty made out of necessity and referred to as a Cucina Povera ("poor kitchen") dish.

This historically refers to the simple fare of commoners, meals made from humble and seasonal ingredients but no less delicious than the lavish foods gracing the tables of the rich.

A staple enjoyed during the Italian Summer and Ferragosto period. 
Enjoy our version. 

Ingredients. 
200g fresh tomatoes
3 Buffalo Mozzarella balls, torn
1 bunch fresh basil leaves, torn
Salt and pepper
Method.
Thinly slice the onion and soak it in a small bowl of cold water with a splash of vinegar. Let it rest for at least 15 minutes, then drain.
Chop your tomatoes into cubes and season with salt in a large serving bowl. Let it rest for at least 15 minutes.
Place the Freselle in a separate bowl and soak it in water and a splash of red wine vinegar. Rest in water for 5 minutes to avoid them going soft.
Once rested, using your hands, squeeze the water from the bread and add the bread, onions, capers and torn basil and mozzarella to the bowl of tomatoes. 
Dress with your olive oil and vinegar and season with salt and pepper. 
Mix with a spoon, taste and add more dressing if necessary.
Buon Appetito! // Enjoy.
Yours truly, 
Liana