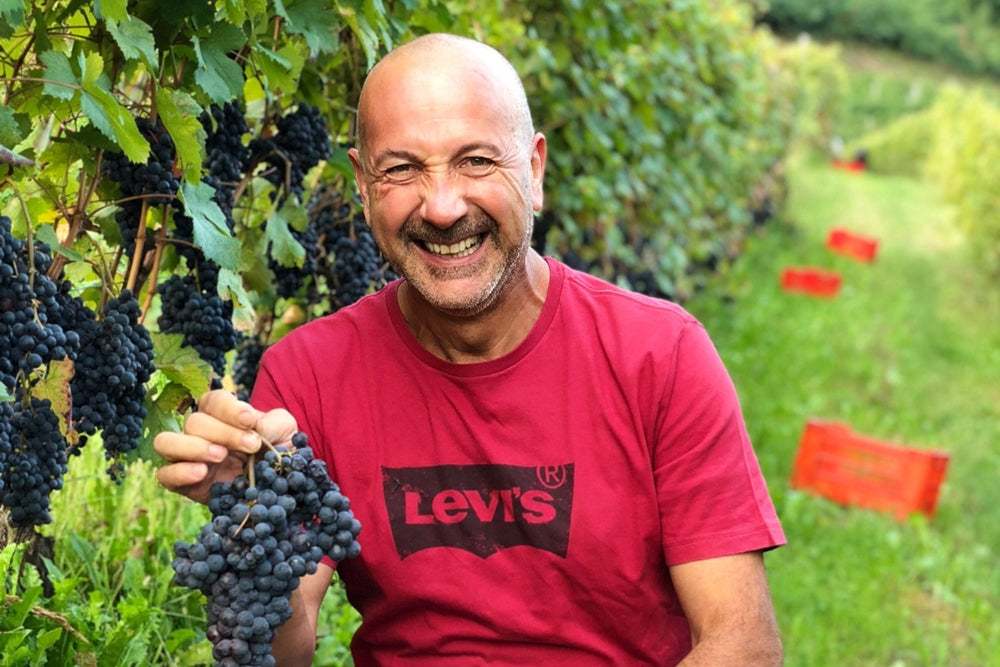 Monforte d'Alba Piedmont, Italy

A Taste of the Land
Envision yourself on a crisp morning in the mountainous, wine-dominant Italian village of Monforte d'Alba, Piedmont. Absolute bliss. This is where the Giacomo Fenocchio Estate was founded by Giacomo Fenocchio in 1864. A scenic and multifaceted 14-hectare vineyard and organic farm where a selection of unique wines are produced. Now by fifth generation, Claudia Fenocchio. The land spreads across Cannubi in Barolo, Villero in Castiglione Falletto, and Bussia in Monforte d'Alba.
Photo via Giacomo Fenocchio Website
Photo via Vinify.
Tradition
Committed to honouring traditional and prestigious techniques passed on through generations, classic wines are crafted with an authentic expression and an unwavering emphasis on purity of fruit. Claudio's wines display a level of terroir clarity that only producers of higher echelon manage to create. Behind each bottle encompasses passion, tradition and a commitment to the land they are made from.
Photo via Giacomo Fenocchio Website

Before Bottling
Modernity has found its way in the cantina. Stainless steel tanks and wooden fermenters coexist. They produce the whites along with the lush, bright reds that made the estate's renown. Then, there are the venerated staples, made in large Slavonian oak casks dominating the pristine cellar. Claudio is partial to ambient yeasts and though current macerations are long, he has been experimenting with ones that last as long as 90 days – an exploration of past methods that is yielding very promising results. His wines dispel monotony with their fine detail and unique charm. Each displays the grandeur of its origins seamlessly in a masterful combination of fruit purity, site expression and prestigious tradition.
Photo from Vinify Wines

For the Barolo Fanatics

2018 Barolo 'Cannubi'
RRP $223.00

Perhaps the most famous hill in Italy, Cannubi is the most celebrated and prestigious vineyard with the Barolo designation. Historically, it is the oldest Italian cru, recognised in 1752. Everything here conspires to create greatness: the perfect combination of altitude, exposure, soil composition and microclimate result in a Barolo of uncontested prominence.

The Winemaking.
The fruit comes from Cannubi. It grows on 30-year-old vines sitting at 280m above sea level on Tortonian soil, marl and sand.

The Tasting Notes.
A sumptuous and opulent wine with the structure to match. It sets the tone from the very first taste – rose, sweet red cherry, fresh mint, and sweet incense. On the palate, it stands firm with gravitas and sensuality. It is the complete package.

- 92 pts. Antonio Galloni, Vinous
Photo from Giacomo Fenocchio Website

2018 Barolo 'Bussia'
RRP $182.00

Bussia is renowned for crafting one of the most authentic expressions of Barolo in Monforte d'Alba. It has been affectionately cultivated by the Fenocchio family for over 30 years. Covering an area of 5-hectares, it enjoys optimal exposure to the South allowing a constant sun exposure and a soil composition conferring structure and complexity to Barolo. Giacomo highlights the most distinctive features of this icon of the Langhe hills, with a finesse that will only enhance with time.

The Winemaking.
The fruit comes from Monforte d'Alba's Bussia cru. It grows on 35-year-old vines sitting at 300m above sea level on Helvetian clay, calcareous sediment and iron rich soil.

The Tasting Notes.
Bright ruby colour of good depth with garnet tints. The bouquet suggests more savoury stuff than fruity, the discrete berry and a black rose scents a little masked by dried blood, rusty nail, dried herb and liquorice aromas. The palate is also complex and savoury, the subtle fruit sweetness balanced by sapid elements and ferrous minerality, the tannins authoritative and mouth-coating, the whole building to an intense and long finish. A wine of excellent depth and presence.

- 91 pts. Antonio Galloni, Vinous
- 95 pts. Stephen Blandford, The Real Review
Photo by Giacomo Fenocchio Website

Available now at Mercato.