If you have a passion for travel, and love the thought of eating pizza and pasta, drinking wine, exploring historic cities and museums, viewing the most picturesque mountains and pristine coastlines, well, Italy is definitely your next holiday destination. As you may be aware after scrolling through your feed on social media, seeing the posts of those who are enjoying time away, this is the best time of the year to visit a country like Italy. The weather is hot, the streets are filled with excited locals, and tourists are roaming around with a gelati cone in one hand and a camera in the other.
Watch the video below to discover the 10 best places to visit in Italy.
 MAP AND LOCATION OF TOP 10 PLACES
10. 
Naples | Napoli
One of the busiest metropolitan cities in the country, Naples is the capital of the Campania region in Southern Italy. Napoli is filled with some incredible historical sites and has a vibrant atmosphere with all the shops, restaurants and nightlife venues. Many favourite Italian foods originated from here such as pizza, spaghetti and parmigiana. These dishes are taken seriously in Naples and usually feature fresh, locally grown ingredients. As it is nearby famous sites like the Bay of Naples and Pompeii, Naples presents an ideal base to stay while exploring the area.
9. 
Italian Lake District
The Italian Lake District stretches across Northern Italy. The southern ends of most of the lakes are relatively flat but the northern ends are mountainous as the lakes reach deep into the Alps. Garda is the largest lake, and offers stunning scenery, especially in its mountainous northern stretches. Como is equally, just as breathtaking, with forested slopes rising directly from the water's edge. Further west, Maggiore is less popular yet just as beautiful, with several popular family resorts.
8. Sicily
The largest island in the Mediterranean Sea, Sicily is an autonomous region of Italy that also includes several smaller isles. It is separated from the mainland region of Calabria by the 5 km (2 miles) Straits of Messina. Home to every great Mediterranean civilization, Sicily is rich in art and history; from Agrigento's Valley of the Temples to Palermo's Baroque churches. The island's most striking geological feature is Mount Etna, Europe's tallest active volcano.
7. 
Cinque Terre
Meaning "Five Lands," Cinque Terre comprises the five villages of Riomaggiore, Manarola, Vernazza, Monterosso and Corniglia. Located in Italy's northwestern coastal region of Liguria, the villages of Cinque Terre feature some of the country's most beautiful landscapes that include steep cliff sides and wine terraces dating back to hundreds of years. Among its many gems, Cinque Terre boasts a centuries-old complex of hiking paths that offer some of Italy's most stunning coastal views. The Blue Trail is a paved trail connecting all five of the villages and is suitable for all ages.
6. 
Milan | Milano
Nearly destroyed from heavy bombing during WWII, Milan has since reconstructed and now shines as one of the wealthiest cities in Europe. Widely regarded as a mega fashion centre teeming in designer shops, Milan also attracts many to its surviving world famous treasures like Leonardo da Vinci's painting, The Last Supper, the La Scala Opera House, the Castello Sforzesco and one of the world's largest Gothic cathedral. Nonetheless, Milan sometimes appears less Italian compared to the country's predominantly historic cities and more of a glamorous city with modern architecture.
5. 
Amalfi Coast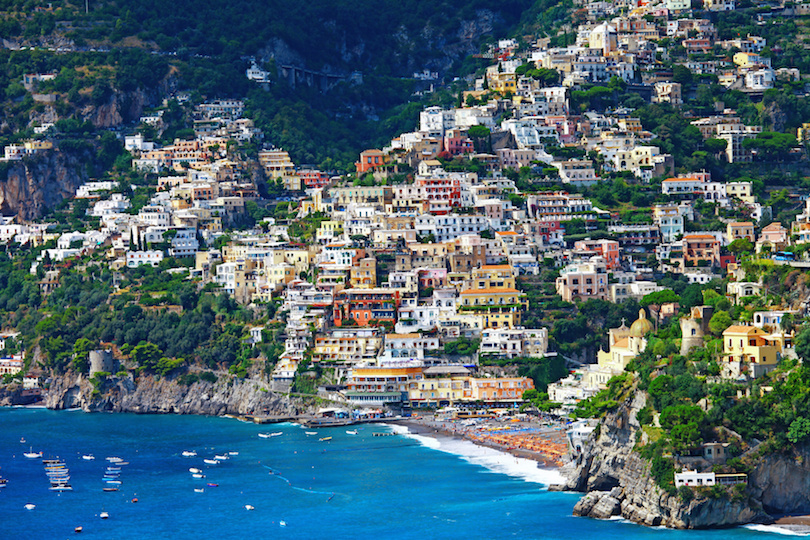 Situated in Italy's southwestern region of Campania, the Amalfi Coast is known for its extraordinary beauty that makes it one of Italy's top tourist destinations. Stretching 30 miles along the southern side of the Sorrento Peninsula, the Amalfi Coast is prized for its picturesque coastline that features shimmering bays, craggy cliffs, lemon tree gardens, multicolored villas and ritzy resorts. One of the most romantic and posh towns along the Amalfi Coast is Positano with its beautiful pebbled beaches, pastel houses and scenic mountains. One of the larger towns, Amalfi, features lovely plazas lined with restaurants while the town of Ravello is favoured for its beautiful villas of gardens and art works.
4. 
Pompeii
One of Italy's most visited tourist destinations, Pompeii is a famous Roman city which was buried under several feet of volcanic ash for nearly 1,700 years after the cataclysmic eruption of Mt. Vesuvius. Excavation of Pompeii began in 1748, and the site is yet to be totally unearthed. The site is located near the modern city of Naples. A tour of Pompeii offers a fascinating insight into the everyday life of the ancient Roman world. Visitors can walk along the ancient streets to see the remains of bakeries, brothels and baths.
3. 
Venice | Venezia
One of the best places to visit in Italy, Venice is a unique city in that is built upon a lagoon surrounded by the Adriatic Sea. Located in northeastern Italy, Venice is an archipelago of 118 islands all connected by hundreds of beautiful bridges and scenic canals. Of the canals, the Grand Canal is most famous and divides the city into two sections. Picturesque waterways and historic architecture make Venice one of the most romantic cities in the world. Venice is often crowded but well worth visiting to see its magnificent landmarks like Saint Mark's Square and Basilica, Doge's Palace and Rialto Bridge. One of the most popular things to do is to take a gondola ride along one of its many canals.
2. 
Tuscany
Italy's most famous region, Tuscany conjures images of beautiful rolling hills, olive groves, vineyards and cypress trees. The many pleasures of Tuscany include tasting wine in Chianti, simply relaxing in hill towns such as San Gimignano or exploring Renaissance art in Florence. The medieval city of Siena also holds excellent works of art while its historic center is one of the most popular places to visit in Italy. Elba, the largest of several Tuscan islands, offers great beaches while Pisa is world-famous for its Leaning Tower.
1. 
Rome | Roma
Formerly the capital of the Roman Empire, Rome today is the government seat and capital city of Italy. Located in the country's central region of Lazio, Rome is a vast and complex city that is both historic and modern at the same time. Best known for housing ancient Roman structures and the Vatican City, Rome has endured for more than 2,500 years as an important centre for culture, power and religion. From ancient romantic plazas to stunning cathedrals and Renaissance architecture, there is so much to see and do in Rome, that it could take months or even years to see it all.
Information derived from - https://www.touropia.com/best-places-to-visit-in-italy/