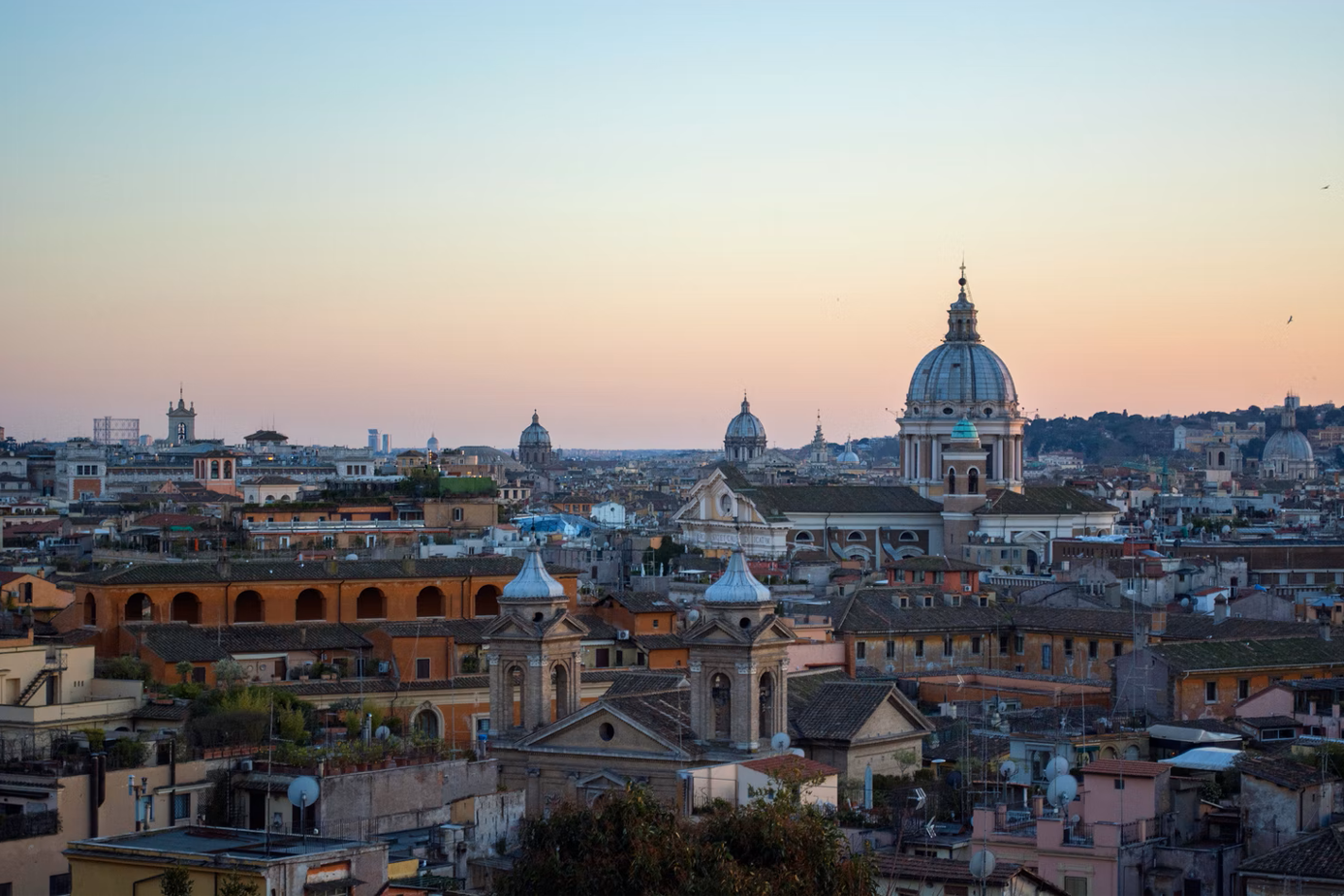 Have kids. Will travel.
When I first started dating my now husband we began travelling together almost immediately. Before we'd been together even 4 months, we took a spur of the moment trip to Hong Kong and spent 8 days getting lost and getting to know each other. Travel has become a key component in our relationship and a foundation of who we are. Covid has been merda and astonishingly hasn't led to murder.
Now that 'care-free two' have become 'tired-AF three', we are starting to prepare for our holidays to take on a new element: overseas travel with a baby! Our excitement to take the little squish to see new places is overshadowed by the one of us who is an obsessive travel planner, who utilises many spreadsheets, budgets, lists and perhaps suffers from a little 'over-planning syndrome'. (It's me, I do this, he is very chill and packs the morning we leave.)
There's a little place called ROME which is on our travel list, so I'm sharing with you my research on how to travel with a baby or child in one of the biggest, oldest cities in Italy. I loved it as a single traveller in my 20s, but the city and its wonderful sights will look a little different the next time I'm there…This article will touch on what to do in Rome with a family, but focus on what you can do to make the trip easier and more enjoyable for all!
Due to a combination of its size and history, Rome really does have something to offer visitors at every age with a list of attractions and entertainment as long as the road to Rome itself. Culture, art, architecture, religion, food, history and nature come together in this most incredible city.
I think a great place to start is to make sure that each day has something special for each person in your family. If one of your troupe is a great art lover, but the rest are not so fussed, don't do a gallery heavy day and nothing else: break it up over several days so everyone has a sweet moment to enjoy everyday of your holiday.
Photo by Fineas Anton on Unsplash
Planning
Before you move your seats into the upright position and stow your tray tables, theres a few things to sort out first.
Do not travel to Rome in August. The heat is like the fire of a thousand suns. There is not enough wind to compensate for the furnace you will be inside of while fighting off 80 billion mosquitos.

Sort out your passports (check that they haven't got too close to expiry after the Covid time-capsule we've all been in!)

Travelling with a formula fed baby? Bring your own formula. There is formula there but you won't necessarily find your brand and this could upset bubs tummy.

On that note, bring any baby Panadol, sunscreen, lotions etc that are the right fit your child's body and skin. No need to try finding those things in a new language when you already needed them an hour ago!

Decide if you're taking a car seat or not (see next section on travelling within Rome.)

Check which airport you'll actually be arriving at, and how to get to your accommodation from there. There are different options depending on the airport and you'll want to be prepared after what will no doubt have been an excruciatingly long flight with a bored child/upset baby/tired

There are many wonderful areas to stay in Rome which will offer different sights at your doorstep, but if I had to recommend one, I'd say to stay within walking distance of the Colosseum (especially if Ancient Rome is going to play a big part in your itinerary). This is also near a lot of public transport to get you to other sections of the city.

If you're bringing a pram, bring one with study wheels to withstand the cobblestones. BUT I would recommend a carrier if your baby/child likes this method of travel. Treat-yo-self to an ergonomic and comfortable baby carrier and strap that little ball of sunshine on!

Wear good walking shoes. Every day. Every. Day.
Transport/Chaos
Ahh the cobblestones streets of fair Rome. Romantic; historical; picturesque, right? Yes, but, absolute hell if you're on wheels. I'm thinking prams and rolling luggage here people, so plan ahead! Avoid bringing a pram if you can, but if you must, get those sturdy wheels!
If you're travelling with a baby or child who is still in a car seat, you won't be surprised to find that, like in Australia, taxis and Ubers not only do not have car seats already in them, they will not take kindly to you trying to install one upon pick up.
For the airport transfer, I would recommend a private transfer. It's a splurge on the budget, but a worth while one. A lovely Italian man will meet you at the airport, help you with your bags, and take you to a van with a well installed baby seat and room enough for all your luggage. It's like a nice hug from Italy after the slap in the face from the plane travel.
For day to day travel around the city and from sight to sight, the public transport system is vast, and has several options, however, all are crowded and most do not have simple to understand timetables. Ye have been warned. Oh, and try to avoid peak hour. I once got on the Northern Line in London at peak hour with a suitcase and I felt the eyes of every sad, cold, tired Londoner bore into me with hatred and distain. You do not want that in Rome.
Options are:
Walking - Do it if you can. Highly recommended.

The Roma Metro – Cheap, easy to use, and has three lines around the city

Hop On Hop Off Bus – Leaves from the Termini and has many tourist stops around the city

Trams and urban trains – You can use your Metro tickets for these, so that's handy

Taxis/Ubers – If you don't have car seat for your baby, by law, you don't need one. Heads up, the driving style is erratic and the traffic is off-the-charts scary.
So Much To See, So Much To Do!
When I was last in Rome I found myself staring at a 'helpful' tourist placard of where I was and how to get to the Vatican from there. It was in Italian which wasn't so 'helpful' for me.
As I cursed learning French in school, an elderly friendly looking lady walked by me. She smiled kindly and I smiled back. Something told me that I should follow her. I followed her for a good 10 minutes and she led me straight to the Vatican! Oh, should have mentioned, she was a nun! Yes. I stalked a nun through the streets of Rome. Let's never speak of it again.
A very abridged list of where to take your family in Rome:
Vatican City
Visit a country within a country! Vatican City is the home of the Catholic Church and a treasure trove of incredible art, books and architecture. Delve deep into the beauty and history, use this as a religious pilgrimage or just go for a stroll; you can take it at your own pace here (after the airport style security check in some areas!) Visit St. Peter's Basilica and a climb up the 551 steps of St. Peter's Dome for an incredible view of Rome, marvel at the Sistine Chapel and relax in the main square.
Museum of Leonardo Da Vinci's machines 
This interactive exhibition of Leonardo's machines is perfect for bigger kids who are interested in machinery and how things work.
Villa Borghese and Borghese Gallery
Villa Borghese is the largest park in Rome's city centre, and is a great place for kids on the go to have a run and play. You can also rent a four-seater bike in the Villa Borghese Gardens to take a family ride around the beautiful gardens and there's also a playground. The Borghese Gallery is great place to take in some art in between all the outdoor fun you'll be having!
The Campo de' Fiori market 
This is a great one for the kids. A street market with fresh fruit, veggies and pasta, gorgeous flowers, souvenirs and some great Italian wine. There are loads of cafes and restaurants surrounding the market, so you'll be spoiled for choice on lunch that day!
Trevi Fountain 
Whether you know it from 'La Dolce Vita', 'Eat, Pray, Love' or 'The Lizzy McGuire Movie' (guilty!) everyone wants to see the majesty of the Trevi Fountain and throw their 'return to Rome' coin! Oh, and the cops are there to stop you from jumping in, so don't do that, that's for movie starlets only!
Photo by Michele Bitetto on Unsplash
Roman Colosseum
Kids will be wowed by the Colosseum. I know this because even as an adult you have to stop and go: "ohhhh, holy moly, wow." They will have seen it in movies and books. Some more savvy or older kids will know just what went on there which makes it even more (darkly) exciting. Regardless, it is a landmark in the history books and does not disappoint! They won't allow backpacks inside, so check ahead if you can bring your baby carrier, and keep an eye on any kids you have on foot as there are a lot of small walkways to wonder off into! Oh, and heed the 'do not climb' signs. Because there are a lot of ancient small walls which climbing kids will definitely want to climb but definitely should not!
Pantheon 
This building is so well preserved and a marvel considering how ancient it is, kids and adults alike love visiting the Pantheon. If your child is curious (who's isn't?!) then there is so much to look at inside. The floors, walls and ceiling are covered in artwork and there are new things to discover all over!
Piazza Navona 
The most famous and beautiful piazza in Rome also happens to have a fantastic toy shop with life-size teddies in the windows! A dream place to take the kids and stop off for a bite to eat too as you enjoy the splashing of the many fountains.
Photo by Marialaura Gionfriddo on Unsplash
Take a Ride in a Time Elevator
The Time Elevator is a three-dimensional ride which takes you and the kids back on an exciting journey where you'll all accidentally learn a thing or two while having a fun ride! Experience the medieval, renaissance and 20th century Rome! 
All That Walking; Hungry, Anyone?
I scream, you scream, we all scream for GELATO!
Photo by Alana Harris on Unsplash
Gelato. Pizza. Pasta. There is, of course, a lot more to Italian food than this, and Rome's restaurants are endless with options of authentic and delicious eats, but for an Aussie in Italy, you know what you want and you want it now!
If you're travelling in the warmer months, stops for gelato are a must and will keep the kids (and kids-at-heart) happy on the long walks of discovery and wonderment that come with being in Rome. Try a few flavours and branch out, especially as some larger gelateries are serving 150 different flavours!
Restaurant Notes
Most will not have a kids menu, but will happily make a smaller/simpler dish of an option from the menu – FYI, they will likely still charge for the full plate.

High chairs may not be available, if you really need one to be able to eat in peace, you can invest in a collapsible one (they go down really small!) and keep it in your backpack.

A pram will pretty much always need to be folded up in order to fit in a busy Roman restaurant.

To skip the restaurant squeeze, check out street food vendors and hole-in-the-wall gems with pizza by the slice available with options to please everyone!
It Doesn't Have To Be A Lonely Planet
Share this wonderful city with your children! Pack what you need, hold onto them tight in taxis, respect the monuments and history, follow a nun, appreciate hundreds of fountains, enjoy every mouthful and bask in the historical, culinary and cultural greatness of Rome!
And remember, you can always take a leaf out of my book: Even if you're in Rome on a frosty January day, shivering next to the Trevi Fountain in your Kathmandu jacket and beanie… you can always, and I mean always, enjoy a gelato as you toss your wish-to-return coin! A presto a Roma!
Sara Best
Traveller of Places, Lover of Wine, Eater of Food, Teller of Stories