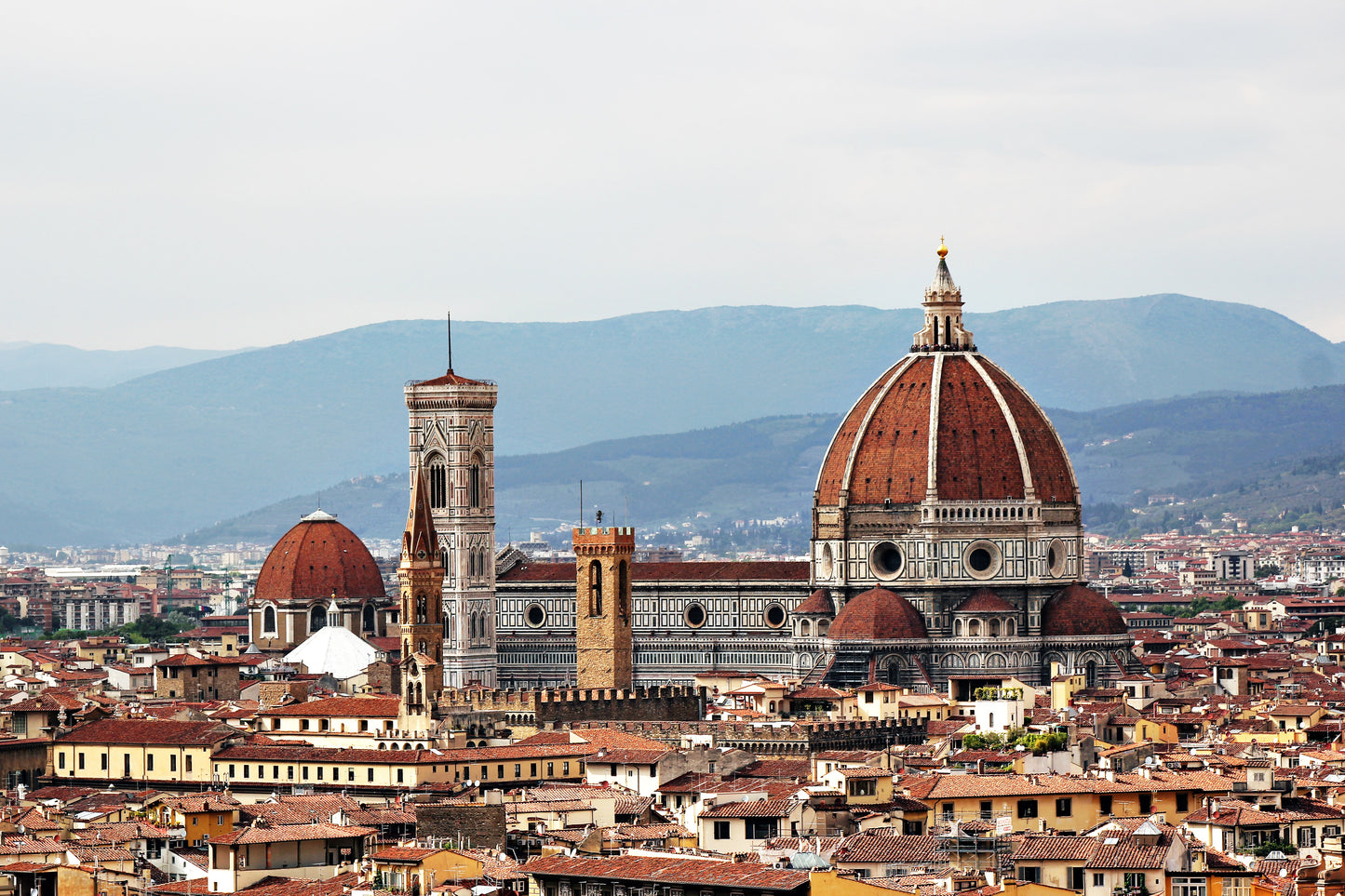 THE BIRTHPLACE OF THE RENAISSANCE

It takes a special place to produce truly unique food and wine

The reach and influence of a 'big banking' or political dynasty family isn't a modern phenomenon. The Medici's pretty much invented the excess and wealth that can come from controlling a region (or country's!) money. With this status came the patronage for most of the great Italian Renaissance art we still treasure today and of course: culinary excess – even when most of the population were unable to afford to eat meat, or worse, were starving.

Even before they became Dukes, Popes and Queens, Florence was the centre for the Medici's (and their mate's) stocked kitchens and laden tables with Tuscan fare. The very best meat from the earth, air and sea: beef, pheasant, peacock and eel were the centrepieces of meals which included sauces to delight dinner guests and mask meat which wasn't always the freshest – owing to the lack of refrigeration invention at the time. Wine, raisins, cinnamon and sumac were used alongside almonds, ginger and cloves to turn 'warm stored meat' into meals of distinction!

All the excess and pageantry aside, the Tuscan food which has stood the test of time and is still sought out and enjoyed today, is primarily what was found on a peasants table, not in the Medici dining hall. Seasonal ingredients take centre stage and pasta isn't really a feature at all. Another revolution to the dining experience: the tablecloth. Seriously. Have you closely looked at Da Vinci's 'The Last Supper' recently? It's not dishes on a wooden table, he painted that meal with a cloth on the table, and this would become the (new) norm for hundreds of years.

So take your seat and imagine you're in the Piazza della Signoria, or in the Uffizi Gallery, gazing up at Davids wonderfully formed...arms, and enjoy a little sip and a slice of Florence from afar…

FLORENCE

The heart of Tuscany

Without much help from me, Italian food conjures up rich historical associations, imagery from Renaissance art and the ability to consume it in the same spots it was being enjoyed 500 years ago. Except of course, the butchers on the ancient bridge over the Arno are no longer there, and they're no longer throwing the worst cuts (which couldn't even be hidden in a stew) straight into the river – yum. Instead there are shops, trendy bars and always a stool to pull up or an old low wall to lean on as you enjoy a drink and a crostini in the afternoon.
Photo by Heidi Kaden on Unsplash
Photo by Jennie Teoh on Unsplash 
Tuscan food is a place for no-nonsense, simple ingredients and authenticity. And while a lot of tourist tat can be found in Florence, without looking too hard, you can find the refined beauty spots of tradition and tastes which are truly unique to this part of Italy.

Hearty and rustic, Florence is a cornucopia of cheese and pork. You can sit down and eat only these two categories of food and stand later full and satisfied after a huge array of tastes and smells, having experienced so many different cooking and preparation techniques that you wouldn't know it was all just simply: cheese and pork.

There's more to it of course. Bread. We mustn't forget the (unsalted) bread – but just don't butter it! Simple beans, olive oil and the aroma of sage can always be found. Beef, boar and thick soups all with a glass of Chianti: a Tuscan creation.

MERCATO CENTRALE

The central market for food in Florence

A true upstairs/downstairs experience of food and flare. Downstairs houses the traditional fresh food stalls and stores stocked with in-season produce, meat on and off the bone and enough dairy products to make your eyes water (do you cry happy tears at cheese, or is that just me?!)

Upstairs is where you can sit and feast in the huge restaurant hall surrounded by stands selling dishes and street food to bite straight from your hands. Every age and family dynamic is here, from young families, solo travellers, old residents, workers on breaks and all for the same reason: authentic Florentine food made from the freshest and best ingredients.

To give you an idea of what's on offer:
Buffalo Mozzarella served hot with bread
Truffle infused antipasti
Fresh pressed fruit juices
Wine from the surrounding regions
Steak so juicy it's almost still mooing
Crostini with every option of meat and cheese combination you can imagine
Photo by Sabrin Hasbun

Obviously, when you're next in Florence, it is a sight, smell and taste not to be missed! Here's a little taste of my favourite Tuscan dishes which can be found in the restaurants, bars and markets of Florence:

STARTERS

Crostini

Well, on the subject of starters I just need to start with: they don't salt their bread. Either during the cooking process or add any additions (like butter) at the table. Any Florentine will tell you that the bread doesn't need it, and it doesn't, so don't! You may however, add some local olive oil. This is delicious. The rules are confusing.

Crostini are a popular choice all over Tuscany and the perfect starter to your meal. My favourite is a simple one, chicken liver pate on a fresh piece of crusty bread.

Photo by Vincenzo Prosperi 


MAINS

Calamari in Zimino

This is one that can be made vegetarian or meaty. The choice of meat varies from region to region and can also include fish, despite not being a landlocked city in the centre of italy, this option is incredibly popular in Florentine tradition. 'In Zimino' refers to dishes where the main ingredient is braised in spinach and other green leafy vegetables with the all important addition of olive oil, garlic and white wine, 'Calamari in Zimino' is a Tuscan calamari dish which will give you a moment by the Mediterranean without leaving the comfort of the café in Florence!
Photo by Frank Fariello

SIDES

Fagioli all'uccelletto

Everyone from the peasants to the Medici's have been raving about beans in Florence for hundreds of years. Fagioli all'uccelletto (beans with tomato sauce and sage) is a perfect side to a meaty main. White beans, garlic, sage and peppercorns are used to jazz up something which could otherwise be considered bland – but not at this table in the city – no sir!
Photo by Terra Nuova

SWEETS

Zuppa Inglese

I could wax lyrical about gelato or cannoli here, but that gets old, so I want to draw your attention to another incredible Florentine sweet to end your day with: 'Zappa Inglese' named for the legend that it was an English cook living just outside of Florence who wanted to use the uneaten Biscotti before they went stale. So she layered them with custard and cream, keeping everything moist, sweet and 'new again'. Thrifty and delicious!
Photo by Emily from Inside the Rustic Kitchen

DRINKS

Negroni

If you're unsure (as I so often am) and want to go with an easy order of the 'house white', check with the waiter that it's a local, because this will always yield a better result. For something a little stronger (and if your hotel is in walking distance) you can hit the local cocktails and start with a Negroni. Invented in Florence in the 1920s by Count Camilo Negroni, it is equal marks red vermouth, gin and Campari. Bitter and fruity and on the floor if you have too many! For something lighter, an Aperol spritz is safe.
Photo by Patrick Langwallner on Unsplash



MY FINAL NOTE ON FLORENCE

These days you can eat like a pauper or a (Medici) prince and still have a grand old time in Florence. See some art, appreciate some architecture, meet the people and eat and drink all you can!


Sara Best
Traveller of Places, Lover of Wine, Eater of Food, Teller of Stories