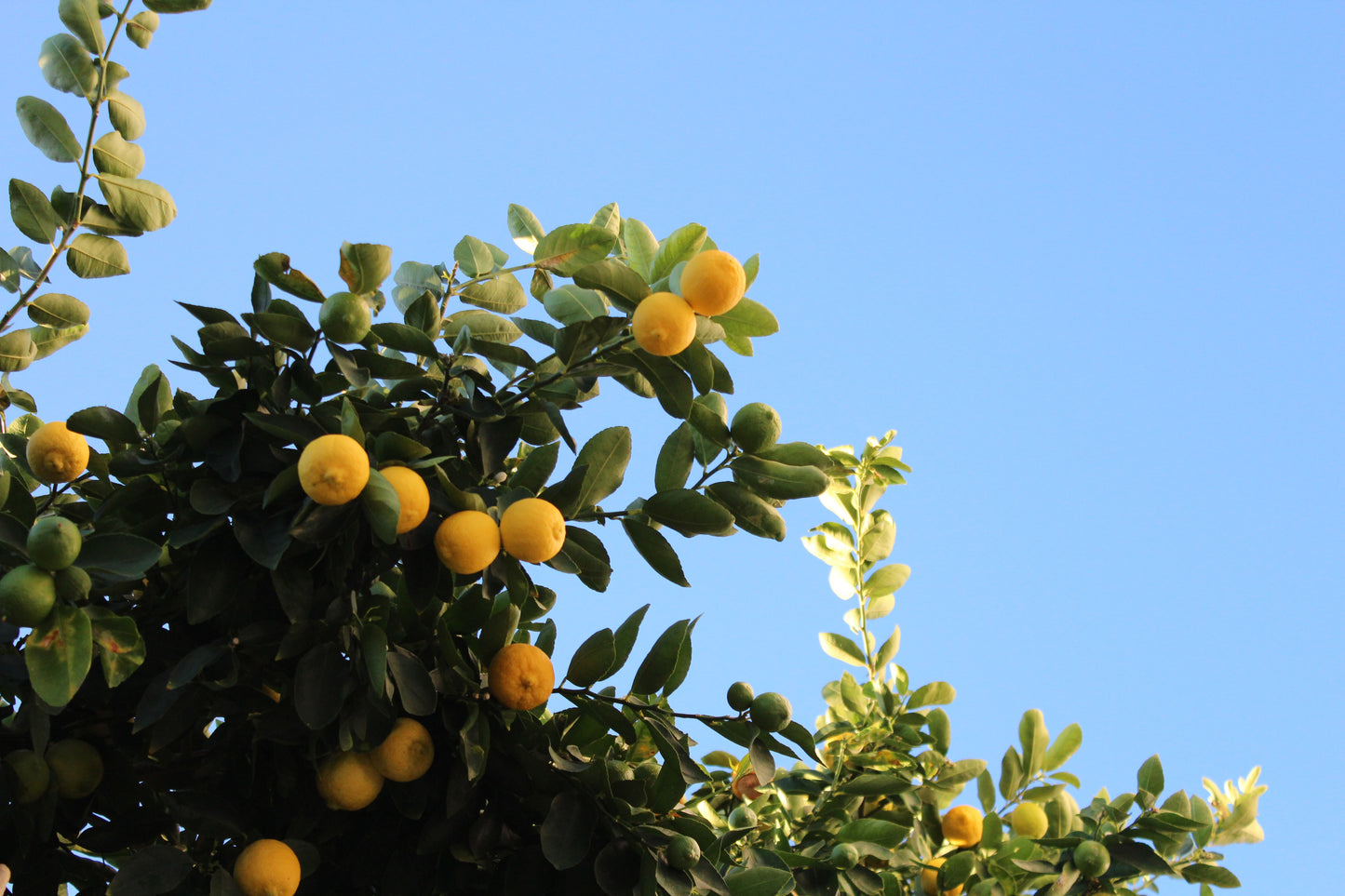 From the orchard straight to the dish

The Italian lifestyle could never be complete without the golden and green citrus fruits, Lemon. From Campania to Sicily to Liguria, Italy practically screams lemons and limes left, right and centre. These luscious fruits are certainly not ordinary, they are bright, vibrant and gigantic (well in Italy they are). You will commonly stumble across these in laneways, markets or painted across ceramics throughout different regions in Italy. A long-standing culinary significance to the Italian gastronomy, let's explore the journey of lemons together.


Photo by Lawrence Chrismorie from Unsplash
Photo by Gabriella Clare Marino from Unsplash

Journey

With any story comes an intriguing past always worth sharing. Although not entirely known, it is suggested that the beginning of lemons stretch back to nearly 3000 BCE in north-western India, Kashmir. They supposedly voyaged through the silk road to the middle east where Hebrews founded and nurtured them. Lemons were supposedly introduced to the sunny side of the Mediterranean islands in the mid-11th Century in Liguria and later in Sicily and Naples.

Known as Amalfi Lemons, lemons have become an iconic symbol in the Amalfi Coast. You think of the Amalfi Coast, I could nine times out of ten predict that you would think of lemons. These specific lemons are distinct for their ginormous size, sweet flavour and powerful citrus aroma. If you visit the ancient historical landmarks of Herculaneum and Pompeii, you will discover lemons throughout mosaics, imprinted on to statues and little market stalls.  
Photo by Sarah Elizabeth from Unsplash


Lemon Parts

We have the pulp, zest, pith and leaf of the lemon. As my Nonna likes to claim, "All parts of the limoni are delicious, don't waste any of it". The pulp is the edible flesh that represents majority of the lemon's weight. Depending on the acidity, it is either a pale or vibrant yellow colour with multiple juice pouches.

The zest, also known as the epicarp is the aromatic skin located on the rind of the lemon. This is the part that provides us with the utmost delightful flavour. It can also be dried or candied to use in cocktails or crushed into a powder and added to dishes as a spice. One part I think should be avoided (even though my Nonna still uses it) is the pith positioned just under the zest. It releases a bitter flavour and can be added as a setting ingredient for preserves and jams. The leaves can be used as a wrapping mechanism for cheese, fish or meat dishes to add that extra flavour. You can even thinly slice the leaf for tea infusions. Maybe Nonna was right after all.
Photo by Han Lahandoe from Unsplash

Uses of the Lemon

Lemons were initially used as an ornamental plant rather than an ingredient for cooking. Now, they can be added to basically any sweet or savoury dish. Lemons can be used for a simple but flavoursome green bean or lettuce salad; soups and sauces; drizzling on meat or poultry dishes or marinating and tenderising meat or fish; and we can never forget the addition of lemon for cakes and custards. All you need is a small quantity. Although I do the complete opposite and completely drench my salads in lemon, EVOO and salt because well…flavour!
Photo by Nikita Tikhommirov from Unsplash
Photo by Suhyeon Choi from Unsplash

How many Lemons are there?
A variety of lemons are cultivated in Italy with the only noticeable difference being their appearance and taste - its thickness, shape, colour and acidity. Lemons are typically categorised as yellow and green lemons. Although both of these lemons grow on the same tree, the green lemon is a product of the summer flowering (growth),

that is often artificially induced by eliminating water during summer months to obtain fruits with a thin skin and a very juicy flesh. Green lemons can be stored for long time and tolerate quite well transports and jumps in temperatures. Therefore, they are exported all over the world.

In general, the major varieties of lemons produced on the world fruit and vegetable market are:

Femminello: These lemons are the most cultivated variety of lemons commonly found in Sicily. Its fructifications have different names and the most important produces the lemons called "winter lemons", because they ripen from October to March. The fruit is elongated, the epicarp is more or less wrinkled. It contains a different number of seeds and is very acidic, with a juicy flesh.

Femminello Lunario: it is a variety of lemons that blooms during almost all the year. It is the plant of lemons cultivated the most as ornamental plant in vases.

Sfusato from Amalfi (or Femminello sfusato): variety of lemons produced in the area between the Lattari mountains and the Southern side of the coast of Amalfi. The fruit is almost seedless and is elongated. Compared to the lemons coming from other Mediterranean areas, this fruit is bigger, it can be preserved for longer period and has a skin, rich in essential oils, thicker and more wrinkled. From the skin of this variety of lemons, the farmers of the Amalfi Coast produced the lemon liqueur Limoncello for the first time.

Monachello: it is a variety of lemons that is difficult to preserve and is used above all for the production of "verdelli". The fruits are elongated. The yellow skin is medium-thick and smooth. The umbo is protruding and there are several seeds.

Celebrating the Lemon

Lemons are a staple ingredient and decoration worldwide. Mercato use lemons in various sweet dishes offered at Bar Mercato which include Lemon Polenta Cake and Crostata Pie.   products. We have Ciro's Cakes and Biscuits, Fiasconaro Lemon Torrone and Meletti Limoncello.

"Lemon's cleanse, refresh, preserve, cook and add a vibrant flavour to dishes, giving colour and an uplifting aroma" – Gennaro Contaldo


Liana De Vita
Lover of Food, Wine & Travel